Located in the heart of the old town Vallauris, A.I.R. Vallauris (Artists in Residence), a non-profit association, welcomes artists from around the world to its lodgings and studios to meet with local artists and to research and create new works in a unique setting, A.I.R. Vallauris has welcomed over 280 international artists since its creation in 2001.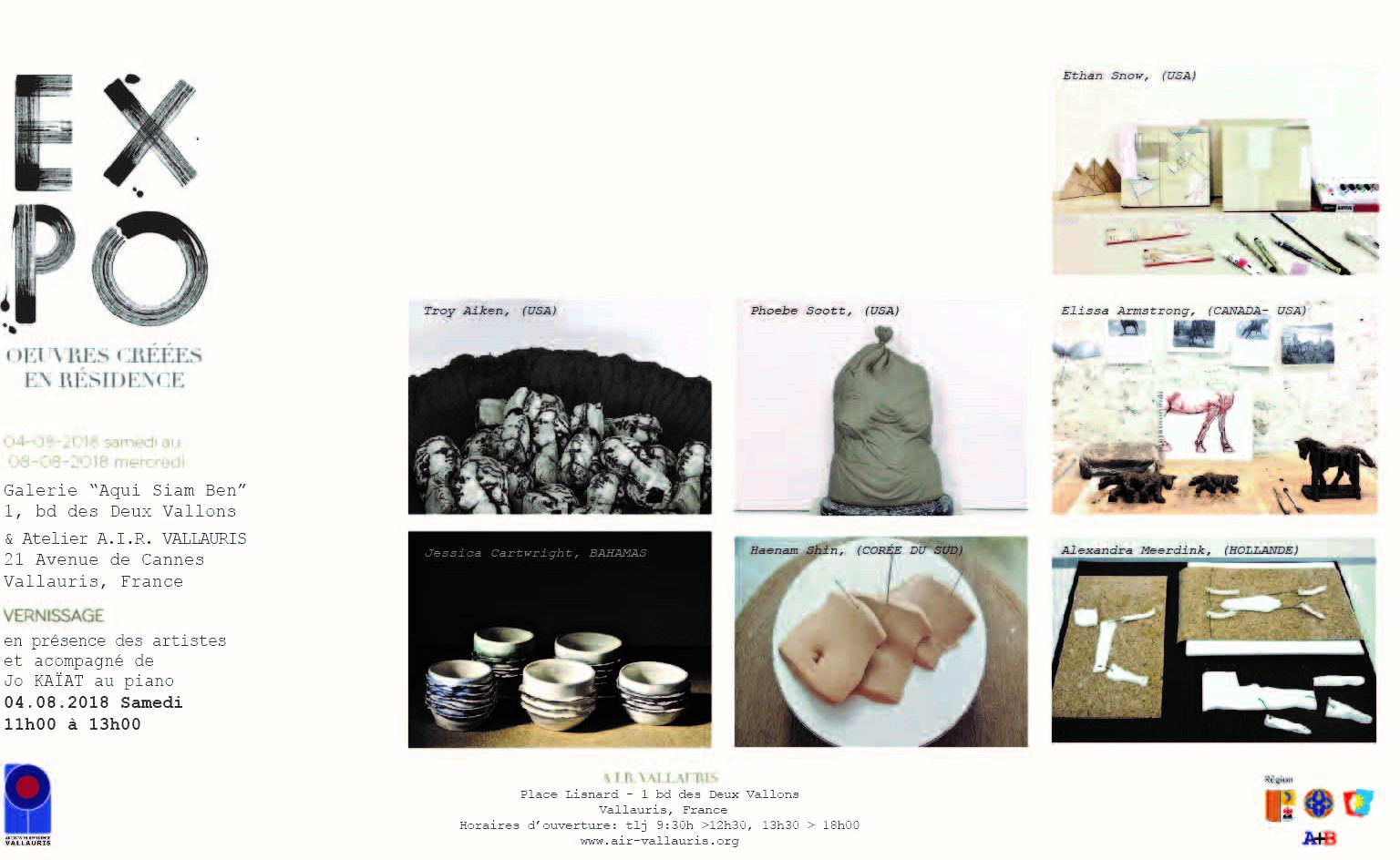 Curent Exhibition
7 international artists. 2 locations. An exhibition of works created in residence. August 4th to 8th, 2018 Vernissage: 4th of August from 11AM to 1PM Accompanied by Jo KAÏAT on Piano Locations : Galerie Aqui Siam Ben, 1 Boulevard des deux Vallons,Place Lisnard, Atelier Aqui Siam Ben, 21 Avenue de Cannes, 06220 Vallauris
Call for artists: Residency opportunity
Standard residency space is available in Session VI : Tuesday, 23 October to Friday, 23 November 2018 To request more information please email us at: contact@air-vallauris.com
Artists in Residency
We are very pleased to welcome Elissa Armstrong, Alexandra Meerdink and Ethan Snow, in residency this week and until August 10th.
Atelier Tremplin
The "Atelier Tremplin" program is specifically designed for recent graduates of Ceramic schools: undergrad or graduate cursus. The goal of the Atelier Tremplin is to provide a platform for new graduates that will assist them in making their initial steps into the professional field. The program is designed to give recent graduates a structure to develop and explore their creativity through housing, studio space, exhibitions and opportunity for community engagement. Atelier Tremplin space is available in the Fall Session: Tuesday September 4, 2018 to Friday November 30, 2018 To request more information please email us at: ateliertremplin@air-vallauris.com