A.I.R. Vallauris
Located in the heart of the old town Vallauris, A.I.R. Vallauris (Artists in Residence), a non-profit association, welcomes artists from around the world to its lodgings and studios to meet with local artists and to research and create new works in a unique setting. Now entering its 17th residency season, A.I.R. Vallauris has welcomed over 280 international artists since its conception in 2001.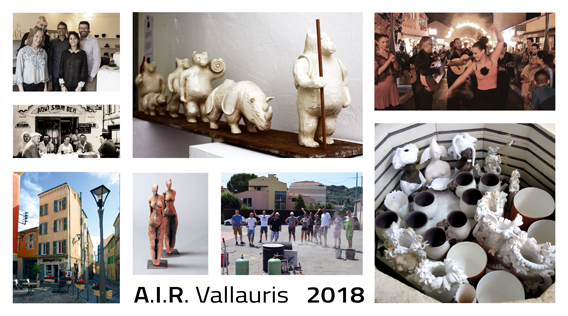 Call for Artists 2018: New deadline!
The schedule for 2018 artist residencies programme is now available. Applications are open to all artists seeking an opportunity to present and realize a project in a rich cultural environment. Our upcoming application deadline is March 31st, 2018. For more information click here.
Exhibition: Retrospective 2017
We are pleased to invite all public to our Retrospective exhibition. Original, unique and high-quality works from international artists as well as works created by the Atelier Aqui Siam Ben will be presented at the Gallery Aqui Siam Ben. February 10th - April 7th, 2018
Small Art Objects
The "Small Art Objects" consists of a biannual event as well as an online exhibition and sale of small art objects. We invite you to visit this website which is regularly updated with works "Made in Vallauris":
www.SmallArtObjects.org
Atelier Tremplin
The "Atelier Tremplin" program is specifically designed for recent graduates of Ceramic schools: undergrad or graduate cursus. The goal of the Atelier Tremplin is to provide a platform for new graduates that will assist them in making their initial steps into the professional field. The program is designed to give recent graduates a structure to develop and explore their creativity through housing, studio space, exhibitions and opportunity for community engagement. More details here.