Located in the heart of the old town Vallauris, A.I.R. Vallauris (Artists in Residence), a non-profit association, welcomes artists from around the world to its lodgings and studios to meet with local artists and to research and create new works in a unique setting, A.I.R. Vallauris has welcomed over 300 international artists since its creation in 2001.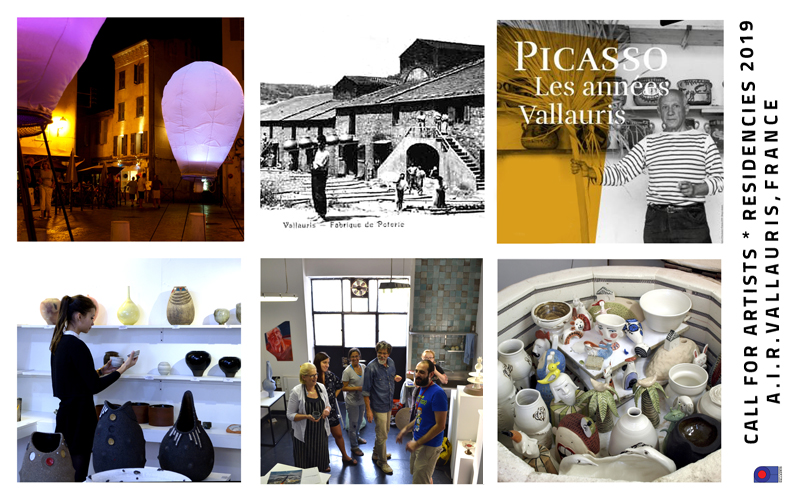 Call for Artists: Residency Programs 2019
We are currently accepting applications for remaining spaces in both the Standard and the Atelier Tremplin residencies.

Upcoming submission deadline:
>>> April 30, 2019. For more information, please click here...
XXVème Biennale Internationale Création Contemporaine Et Céramique Vallauris 2019
Cet événement aura lieu à Vallauris du Samedi, 29 Juin, 2019 au Lundi, 4 Novembre, 2019. Pour plus d'information cliquez ici
Dans Residence
Menant au 72e édition du Festival de Cannes,nous sommes très heureux d'accueillir la réalisatrice, conceptrice de la production et artiste LBMINNICH. Son projet "Expiation" est une exposition multimédia rituelle et expérientielle. La première d'un film (2015) réalisé par LBMINNICH sera projeté sur des formes sculpturales mixtes avec un accompagnement musical d'improvisation en direct. Réception d'ouverture : Samedi, 4 May 2019 de 11h à 13h. Exposition continue jusqu'au 8 mai 2019.
Atelier Tremplin
The "Atelier Tremplin" program is specifically designed for recent graduates of Ceramic schools: undergrad or graduate cursus. The goal of the Atelier Tremplin is to provide a platform for new graduates that will assist them in making their initial steps into the professional field. The program is designed to give recent graduates a structure to develop and explore their creativity through housing, studio space, exhibitions and opportunity for community engagement. Please click here for more information