Current Exhibitions
Current Exhibitions
A.I.R. Vallauris  – 50 Resident artists: Permanent exhibition
Exhibition of works created in residency by over 50 international artists. All works on display have been created in residency in Vallauris and the artists have used a variety of techniques and materials to create their works.
Place: Gallery 'Aqui Siam Ben', Vallauris
Upcoming Exhibition 
Works created in residence by international artists:
Rita BROOKS (Australia)
David PACKER (USA)
Opening in the presence of the artists
Saturday, April 29th, 2017 from 11 a.m. to 1 p.m.
Exhibition from April 29th to May 3rd, 2017
45 rue Clément Bel
06220 Vallauris
&
Aqui Siam Ben Gallery
1 Boulevard des Deux Vallons
06220 Vallauris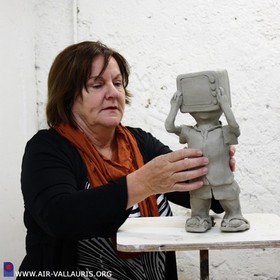 Rita has an Arts Degree from Melbourne University, she lives and works in Perth, West Australia. As an artist, she is working with clay and mixed media. For this project, she has concentrated on ceramic sculpture. The figures focus on the history and the myths of the First World War. Rita is examining the links between the Australian and French soldiers, who fought a hundred years ago in the North of France.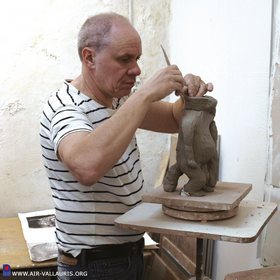 David Packer's sculptures and works on paper are questioning our preconceived ideas about the world through a visual inspection integrating two peculiar interests: industry and natural world. The sculptures represent what, at first sight, seems to be everyday life elements, familiar objects, such as bears. David was born in the United Kingdom and has been living in New York for thirty years, where he works as an artist.