A.I.R. Vallauris
Located in the heart of the old town Vallauris, A.I.R. Vallauris (Artists in Residence), a non-profit association, welcomes artists from around the world to its lodgings and studios to meet with local artists and to research and create new works in a unique setting. Now in its 14th residency season, A.I.R. Vallauris has welcomed over 200 international artists since its conception in 2001.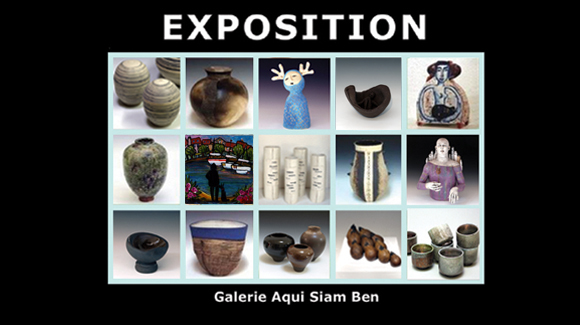 EXHIBITIONS
Galerie Aqui Siam Ben
Works created in residence by over 50 international artists.

10 a.m.- 12.30 p.m. and 1.30 p.m.- 5.30 p.m.
Fête de la Poterie
A.I.R. Vallauris will be celebrating Fête de la Poterie
Date: Sunday, August 9, 2015
To celebrate this event, numerous activities are organized throughout the town.
The Galerie Aqui Siam Ben will be open from 10 a.m. to midnight.
An exhibition of recent works created in residence from over 60 artists will be on display
RESIDENCY APPLICATION DEADLINE
2015 Residency Season:

The deadline for application to the last phase of the 2015 residency season (October 27- November 27) is September 6, 2015
Artists in Residence
A.I.R. Vallauris looks forward to welcoming the artists Barbara BALZER (USA), Ilze EMSE (Latvia), Joe KRAFT (USA), Jessica PUTNAM-PHILLIPS (USA) and Astrid SLEIRE (Norway). The artists will be in residence till October 9, 2015, during which time they will create works which will be displayed at the end of the residency period.