Located in the heart of the old town Vallauris, A.I.R. Vallauris (Artists in Residence), a non-profit association, welcomes artists from around the world to its lodgings and studios to meet with local artists and to research and create new works in a unique setting, A.I.R. Vallauris has welcomed over 350 international artists since its creation in 2001.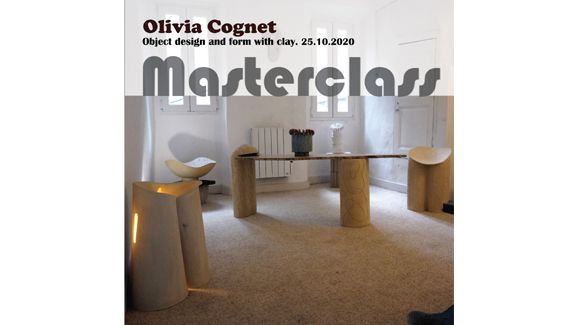 Call For Artists:
Masterclass Object design and form with artist of our residency Olivia Cognet Sunday October 25, 2020.

We are currently accepting applications for the 2021 Artist program. Our upcoming submission deadline is November 30, 2020 for both Standard and the Atelier Tremplin residencies. Please click here...
Residency Programs
Standard Residency. Vallauris accommodates up to six artists in each phase for a one month period in its residence and studios. Using different mediums artists work from an equipped studio, live in individual furnished spaces and are afforded access to a gallery where their works are displayed at the end of their residency period.

The "Atelier Tremplin" program is specifically designed for recent graduates of Ceramic schools: undergrad or graduate cursus. The goal of the Atelier Tremplin is to provide a platform for new graduates that will assist them in making their initial steps into the professional field.
Exhibitions
Gallery Aqui Siam Ben

We are pleased to host Olivia Cognet in Residency. Olivia Cognet is a multidisciplinary artist born and raised in Nice, France. She currently works from her studio "Maison Bisous" in Los Angeles. An accomplished accessory designer for luxury fashion brands such as Lanvin, Sonia Rykiel, Carven, Isabel Marant, Olivia expanded her creative world to the wonders of clay. It is with the same passion and taste for beautiful design that she applies her technical mastery to couture and ceramic art. In both, her artistic vision remains one and the same for both mediums and that is to create art that incorporates a sensual mix of modern brutalism and absolute femininity.⠀In Residency at A.I.R. Vallauris Olivia's goal is to focus on her true roots and to deepen her practice of ceramics in her native country.
In the gallery we are pleased to exhibit works created in residence by over 50 international artists.
Status: 24 November 2020
* The Gallery will reopen on Wednesday December 2nd, 2020. Our regular hours are Tuesday to Saturday from 10 am to 12:30 pm and 1:30 pm to 6 pm.
* In these uncertain times, we realise that it is very difficult to project and plan for future events. We do however encourage you to consider and tentatively reserve a residency in safe times.
* The schedule and application forms for 2021 residencies are currently available.