A.I.R. Vallauris
Located in the heart of the old town Vallauris, A.I.R. Vallauris, (Artists in Residence) a non-profit association welcomes artists from around the world to its lodgings and studios to meet with local artists and to research and create new works in a unique setting. In its 13th residency season, A.I.R. Vallauris has welcomed over 200 international artists since its conception in 2001.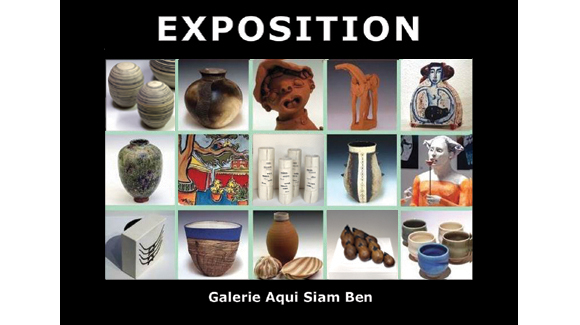 EXHIBITIONS
Galerie Aqui Siam Ben
Works created in residence by over 50 international artists.
10 a.m.- 12.30 p.m. and 1.30 p.m.- 5.30 p.m.
Masterclass Workshop: Barbara BALZER
Barbara Balzer: Sculpture/Modeling: Classic cube to classic head
October 4/5 2014: 9h30 – 17h
Barbara will demonstrate how to sculpt a head from a cube of clay. She will offer instruction on general form and modeling within the X-Y-Z planes for the human head, and then show detailing for eyes, ears and lips. She will also show how form can be enhanced with surface treatment and decoration. Students will create their own works from a model or photo. This workshop is suitable for all levels.
RESIDENCY APPLICATION DEADLINE
2015 Residency Season:
The deadline for the 2015 residency season application is 19th October, 2014
We are pleased to announce that our schedule of residencies for 2015 is now available and accepting applications for the October 19th application deadline.
Artists in Residence
A.I.R. Vallauris was pleased to host the artists Barbara BALZER (USA), Norlynne COAR (USA), Kay EASTWOOD (Ireland), Kathy FAHEY (Australia), Rosi STEINBACH (Germany), and Diane SULLIVAN (USA). The artists were in residence from 13th September till 17th October during which time they created works which were exhibited at the end of their residency. The exhibition was on from 11th October 2014 to 15 October 2014, and some works are now on display at the Galerie Aqui Siam Ben.