A.I.R. Vallauris
Located in the heart of the old town Vallauris, A.I.R. Vallauris, (Artists in Residence) a non-profit Association welcomes artists from around the world to its lodgings and studios to meet with local artists and to research and create new works in a unique setting. In its 12th residency season, A.I.R. Vallauris has welcomed nearly 200 international artists since its conception in 2001.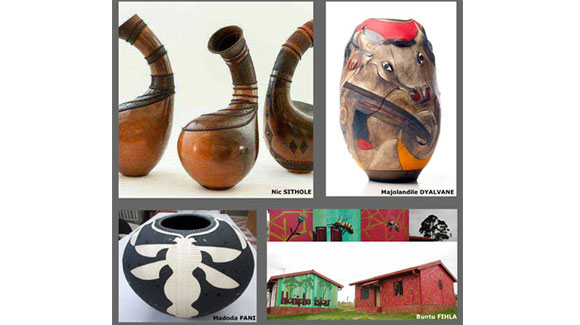 4 South African Artists in Residence
The South African Season in France will take place between May and December 2013. A.I.R. Vallauris is honored to be able to participate in this event. From November 5 - 26, 2013 four South African artists are invited to take up residence. A sharing of expertise as well as South African culture will be made possible through technical demonstrations, workshops and an exhibition.
HOLIDAY SEASON
EXHIBITION AND SALE
December 14/15 and 21/22.
10:00 to 12:30 and 13:30 to 19:00
Works from over 100 artists.
Exhibition on two floors.
Refreshments served. Mulled wine
Galerie Aqui Siam Ben
RESIDENCY APPLICATION DEADLINE
2014 Residency Season:
Sunday January 12th, 2014
EXHIBITION: 4 SOUTH AFRICAN ARTISTS
November 23rd to December 7th, 2013
A.I.R. Vallauris presents the works created in residency by:
Majolandile DYALVANE, Madoda FANI, Nic SITHOLE, Buntu FIHLA.
Opening reception Saturday November 23rd from 11am to 1pm, in the presence of the artists. Refreshments will be served. All public is welcome.